LCK Summer 2019 - Week 8 Day 1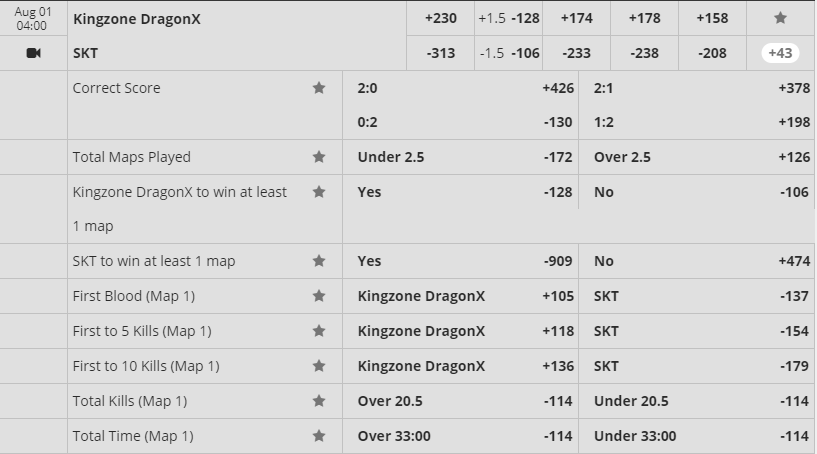 We get two outstanding matches in the LCK tomorrow that are challenging to call. The simple reasoning for this bet is that I think this line is too far apart. I think SKT will win but I can't look at Kingzone as a +230 against literally anybody on earth and think it's correct. Feel free to abstain from this one and just enjoy the game but I can't look at these numbers and say no.
Moneyline: Kingzone +230 (1 unit)

Spread: Kingzone +1.5 @ -128 (2 units)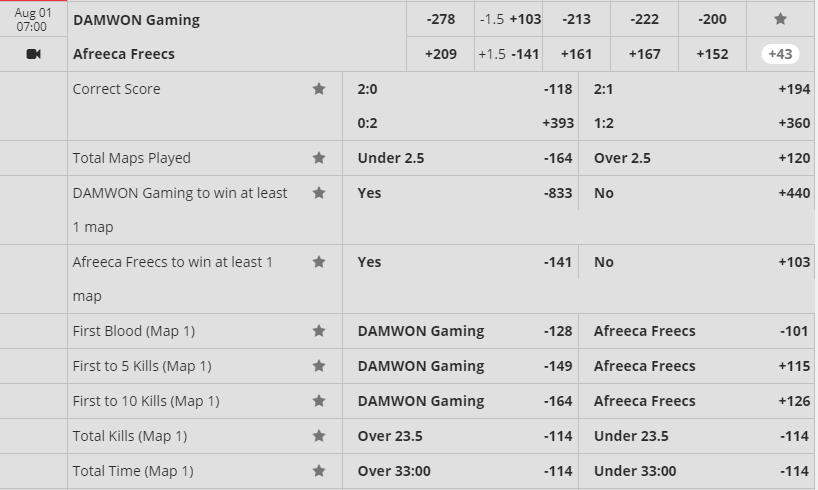 This one feels like a trap. Afreeca are a good team and while they have glaring weaknesses they have such incredible solo lane talent that they can often bulldoze their way through those disadvantages in much the same way FunPlus does with their decisiveness. I'm still questioning Senan and think the draft liabilities this team has are going to be difficult to consistently overcome against the top teams. You could argue DAMWON is the top team in the LCK right now. Afreeca were able to take care of Kingzone but the solo laners on DAMWON are significantly better.
The approach to this match is that if you believe Afreeca's strong solo's have more of a cancelling effect on DAMWON's then the Afreeca +1.5 maps is the bet here and maybe even justifiably the moneyline but I wouldn't go that far. If you think DAMWON are simply too good of a team to not abuse the liabilities Afreeca have then it's DAMWON -1.5 maps. The moneylines are a bit out of range.
I've discussed that DAMWON are probably the best team in Korea but they aren't like the historical best teams in Korea because they're not quite as crisp and clean. They drop games in their overzealousness. I'm going to be light on the DAMWON -1.5 because I do think they can punish Afreeca's weaknesses well enough. I also think DAMWON are the other elite uptempo team and facing someone that does what they do but worse should be an advantage to them. I think DAMWON take this 2-0 but I'm only wagering a small amount on it because of the likelihood of Afreeca's solo lanes to steal a game here.
Spread: DAMWON -1.5 @ +103 (1 unit)
-----------------
Parlays:
This is another one of those "guarantee IF" style parlays. We're going to take the double favorite moneyline for 2.5 units to win just short of 2 units, but also the DAMWON + Kingzone ML to win just short of 4.5 units. We ned 0.75 if both favorites win and a little less than 1 unit if DAMWON and Kingzone win. Both of these hinge on DAMWON winning.
Parlay (2): SKT ML + DAMWON ML @ -125 (2.5 units)
Parlay (2): Kingzone ML + DAMWON ML @ +349 (1 unit)