Mid Season Invitational - Play-In Stage Day 1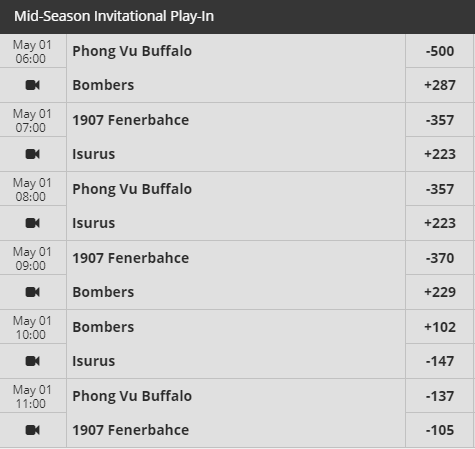 We did an entire podcast episode about the first two days and out general outlook on these teams so I'd direct you to check that out. That said here are my picks and a brief justification.
Bombers +287 vs Phong Vu (1 unit)
This is mostly a bet against Phong Vu not for the Bombers. While I think Phong Vu offer perhaps the highest ceiling in this group along with Fenerbahce, the manner in which they play is really inconsistent. You might ask how I can say that when they utterly destroyed domestically and I'd point that itself as evidence. Phong Vu are worlds miles better than the rest of the VCS. I'd say honestly like two tiers better at least. They brute force their way through everything with absolutely no tact whatsoever and while that works domestically it could be exposed by stronger competition. On the show I compared them to a fighter that just has tremendous size but no real skills that can win fights against unskilled opponents just on his size alone but against more skilled fighters that are ALSO his size his lack of ability will come to bear. Phong Vu could definitely prove me wrong but Vietnam has been overrated (and miscast) since the Gigabyte Marines run. I think Phong Vu have a reasonable chance to get out of this group and they're my second pick behind Fenerbahce as I think they're clearly better than Bombers and Isurus but I'm going to bet against their style/mannerisms that they'll drop a game and if we pick the right one we're up even if we lose the others. Look around on your books I've seen +300 or more at other shops.
Isurus +223 vs Phong Vu (1.5 units)
Similar reasoning to above. I may be overrating Isurus a tad because of the combination of the two Latin American leagues improving competition but I'm willing to stick to my guns. I think Isurus might suprise some people.
Isurus -147 vs Bombers (3 units)
I don't mean to disrespect the Oceanic Pro League representatives but as mentioned above I think people are sleeping on Isurus just a bit. Consider this my flag being planted on the hill of Isurus. This is a tad heavy for regions I don't follow closely I'll admit but just from what I've watched I actually like Isurus more and think they'll be the 3rd best team in this group come tournaments end as long as they stick to how they like to play.
Fenerbahce +115 vs Phong Vu (5 units)
I got this in earlier in the week and this line has since moved to -105. I think Fenerbahce are the strongest team in this group by enough of a margain that I'm going to fire on this. I don't normally bet more than 3 units on best of ones and this is admittedly heavy handed so feel free to cut this in half but I think Fenerbahce are the strongest team in this group and the entire play-in tournament besides Liquid. If it was possible I would have liked to see them face Flash Wolves because I feel they could have won. This team is good. Their style isn't exactly the greatest for best of one which is my only real reservation but I think they'll mop the floor with this group and win five or all six games. Phong Vu is their only challenge and while it wouldn't surprise me to see Phong Vu take them down in a game I do think Fenerbahce should be the favorite to get out of this group and the books don't seem to think that. Firing on this heavily for a combination of value and strong albeit not surpreme confidence.
Parlay (2): Isurus -161 vs Bombers + Fenerbahce +115 vs Phong Vu @ total odds +248 (1 unit)
Unfortunately I put this parlay in before Isurus odds dropped to -147 but I try to share all my wagers.
---------------------
Day two tomorrow or later tonight.