Working on getting integrated and up on iTunes, Stitcher, etc should be up within the next week, potentially tomorrow but you get yours anyway.

It's also on John George's YouTube
------------------------------------------------------

LCK Spring 2019 W6D2:

I have a lot of respect for Hanwha Life and think they'll be competing for a playoff spot but to me Kingzone look like the third best team in the LCK and I'd say they're at least a tier better. Kingzone look good right now and I think this line is a bit of an overreaction to Hanwha 2-0'ing Kingzone two weeks ago. They have the better lineup and metrics for sure. This is more of a film study plus momentum bet. Hanwha are a solid team fighting team but they have a lot of difficulty transitioning into the mid game and in the current meta that happens very quickly. They've struggled a lot against strong early game teams. It's also worth noting that Kingzone are their only win over what I'd call a "good" team. Their last match involved a dropped game to a floundering Afreeca team and DAMWON split pushed them out in game one and then completely decimated them in under 22 minutes in game two. IF you consider DAMWON and Kingzone in the same ballpark/tier like I do then this is a no brainer. I'm probably going to add on to this, check twitter for updates.
Moneyline: Kingzone -137 (3 units)
Handicapped: Kingzone -1.5 maps @ +206 (1 unit)

On the podcast we all said we're passing this game. Gen.G randomly mise wins sometimes but Gen.G are showing up to gun fights with a knife. In years past they could actually find ways to compete in such a fight but this year the guns are just too good and Gen.G have been stripped down to a butter knife. Their style of play is just far too optimal for the current state of the game. The only value in this match is whether you think SKT easily 2-0 this and even then -192 is a tad too rich. It's close. I'll probably put it into a parlay.
No wager (lean SKT -1.5)
-------------------------------------------------------
LPL Spring 2019 - W6D4:

If you read yesterday's post you'd know this is my Pick of the Week. Listen... the books are grossly overreacting to WE 2-0'ing EDG before the break (when they started vacation early apparently). They're also overreacting to RNG's soft start where they weren't playing Uzi. Cook into that WE's back to back wins and it looks like WE are something right? WRONG. Watching this team play is like glorified solo queue. It's honestly abysmal. They have no idea what to do in a lot of situations. It's important to remember that, other than some individual stars like ZWuji, the bottom of the LPL is just as bad as the bottom of a lot of leagues. Team WE winning matches against LGD and OMG doesn't tell us anything other than they are capable of beating similarly bad teams. Against good teams? 0-2 stompfest against FunPlus, 2-0 weird flukey win against EDG before holiday, wrecked by Suning 0-2, and SinoDragon took their time with it in a week one 0-2.
Team WE is awful, I think they might be the worst team in the LPL and despite beating LGD and OMG I honestly don't think they're any better than these bottom dwellers. RNG have some ground to make up after a sluggish, Uzi-less start and even if they're looking ahead to a showdown on Sunday against Victory 5 I still think RNG stomp this. Hell Karsa might be able to 1v9 this game... grab the shoebox of money and jam it on the -1.5 this should be a slaughter. I got this line when it was -120 and you would have too if you read yesterday it's since ballooned to -147.
I'll warn you that I'm 0-4 in 5 unit plays this year but I was 70%+ on them last year.
PICK OF THE WEEK
Handicapped: RNG -1.5 maps @ -120 (5 units)

See I'm glad I do the podcast AND blog posts because I might have missed this one. Snake have looked awful and no that wild and whacky win against Rogue Warriors doesn't mean anything they're awful too. It's dangerous talking yourself into something sometimes but TopSports are also not a team that randomly punts games to bad teams. SinoDragon is a good, up and coming team that they lost their most recent match to but before that TopSports haven't lost a single individual game since their two week one matches a 2-1 vs Victory 5 and an 0-2 against Invictus. That streak includes 2-0's over RNG and JDG for what that's worth.
TopSports are a great team. They're going to finish in the top four in the LPL. I don't know if they're quite on the level of IG or RNG yet but they along with FunPlus are trying to make their case for it.
Handicapped: TopSports -1.5 maps @ -143 (2 units)
------------------------------------------
LEC Spring 2019 W7D1: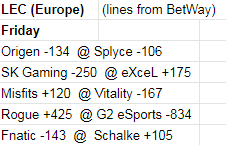 We actually went into a good amount of detail on the podcast about this slate and how there are a few crucial inflection points here for a few teams. Misfits and Vitality could tell a lot about the trajectory of both squads as well as Fnatic and Schalke.
Origen vs Splyce seems like it could be interesting but I really am not a believer in Splyce. There's just not enough value to pull me to either side here but it will be interesting to see if Origen can bounce back from an 0-2 week six and whether or not Splyce will finally be punished for their sloppy mistakes (which has yet to happen by the way).
I think SK are one of the top teams and they need to take care of business in games like this. I don't think Excel is that bad of a team ... ehhh maybe they are but I think they can progress. -250 is too rich to pay for SK and I don't like the dog here.
Misfits vs Vitality is a super interesting one and yet another mid-season inflection point for both squads. I think Misfits is better than a lot of sharps/analysts think but I also don't think they're as good as public perception either. Vitality feels like the right side but they've shown a tendency to punt games before. John George (@TheEsportsPlug) made a really great point on the podcast about this series. If, in fact, Misfits win this series and they do so by means other than HansSama going berserk like he's been doing then maybe there's something to look into about this Misfits team moving forward but we shouldn't put a lot of weight on a win with the same methods that happens to break their way. This team, much like Splyce, is ripe to be exposed and people aren't talking about it. I like Vitality but this is a good line and the fact that it's best of one is keeping me off the favorites.
Rogue vs G2... not much to say here folks I think there are better long shot lottery tickets on Saturday's slate.
Fnatic vs Schalke is yet another fascinating one. Is Fnatic going to have a second half surge? I think they will. We discussed on the pod that we all think Fnatic can't be as bad as they've been and will almost certainly take steps forward it's just a matter of how much and when that happens. If you think that happens tomorrow then this isn't an awful spot to bet them but you're not really getting great value. I do think Schalke are a better team even with Fnatic improving as a consideration and I actually like Schalke here for a unit. They shouldn't be underdogs just because they went 0-2 last week. If I didn't feel strongly that Fnatic could start their second half surge as early as tomorrow this would be a three unit wager but we're going to keep it to one for now and bet it live.
Moneyline: Schalke +105 (1 unit)
-------------------------------------------
PARLAY (3): TopSports -1.5 + RNG -1.5 + Kingzone ML @ total odds +403 (0.5 units)