LCK Spring 2019 - January 31st:
So I missed almost all of this weekends live games as I was on the road competing. I'm still catching up on the NA and EU VODs but I've watched China and Korea. Some great series this weekend, SKT and DAMWON inparticular was a great one that highlighted the capabilities of both squads as well as some of their shortcomings. I just wanted to give people a heads up because I'll be on the road once again this coming weekend. I'll try to have my picks up before I go on either Thursday night or Friday afternoon. After this weekend my schedule clears up quite a bit and I should be back to writing and probably playing/streaming more for you all.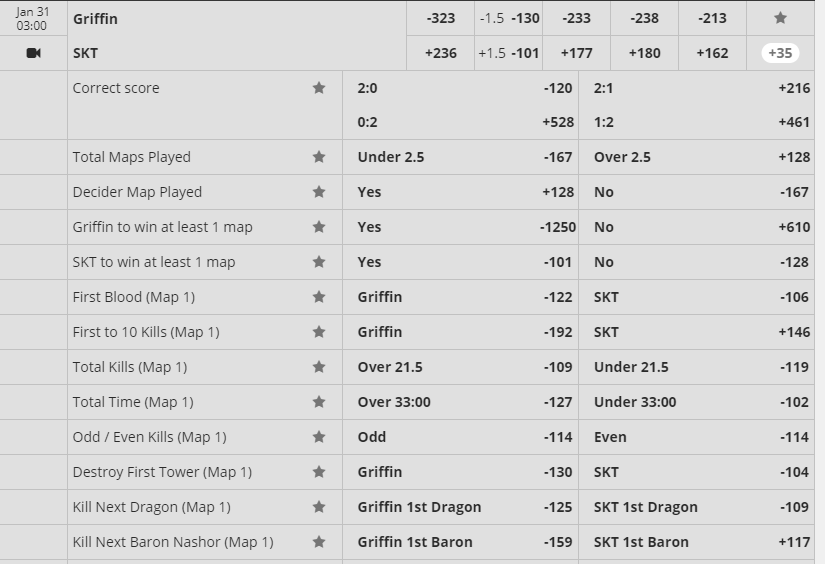 SKT vs DAMWON was a clinic in snowballing for the first two games. A slower, controlled one by SKT in game one followed by an absolute blowout off of one mistake bottom lane in game two to give DAMWON the win. Game three was much more slow-paced and cautious by both teams. SKT have shown an improvement in their ability to ARAM... god that sentence hurts to say but it's true. Khan's Jayce did an unbelievable amount of work in this series to create siege situations where DAMWON simply couldn't engage because they were poked out. It's a bit of an unsung hero situation but he almost single handedly won SKT this game. Good to see him back on one of his classic picks.

Griffin has had five days off and saw an SKT series in that time after they handled DAMWON. Everything points to a Griffin win here. Time off, film on SKT's most recent performance against the same team they just faced, Griffin being as good as they are, etc. So why am I going with SKT here? A couple of reasons. First, I think they have the individual players to actually hang with Griffin, something very few teams can actually say. Second, and this isn't something I usually believe in, but Griffin are bound to either get overconfident or simply lose a game soon and I think SKT have shown steady improvement even with sloppy losses from time to time. Third, SKT get side selection for this series and might, possibly have something really special prepared for Griffin.

These odds are mostly accurate to me but this is just one of those gut feeling kind of situations. My gut served me right for most of last year and I haven't been going with it nearly enough this year. I've been logic'ing away and everything about this season has sort of defied logic even as we think teams are settling into who we think they are in every region. This feels like SKT have had this game gold star'd on their calendars for the entire offseason and I expect them to have a good performance. TAIL AT YOUR OWN RISK HERE

Handicapped: SK Telecom +1.5 maps @ -101 (1.5 units)

Moneyline: SK Telecom +236 (0.5 units)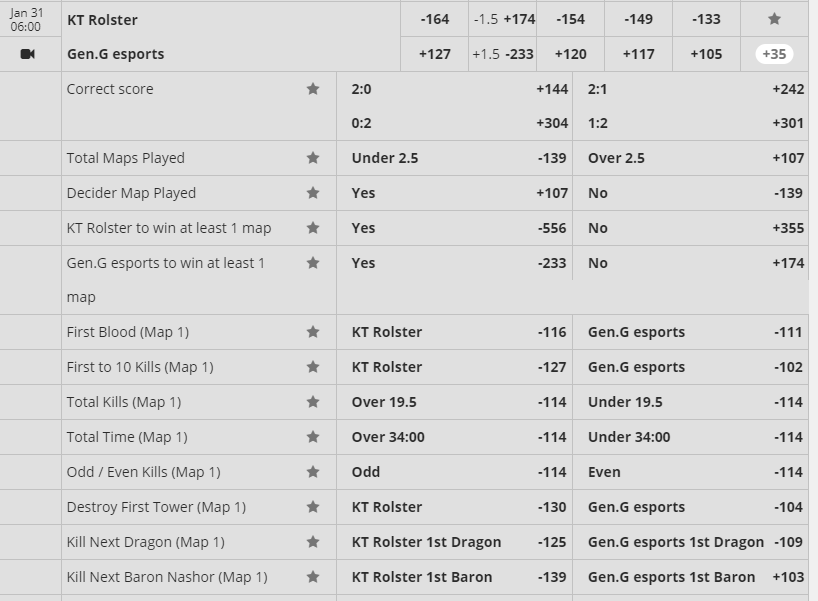 I feel pretty confident in saying that Jin Air and Gen.G look like the bottom two teams right now with Afreeca slowly improving but not far ahead of them. Gen.G and Jin Air played a snail-paced series as we'd expect from these two teams. In hindsight the UNDER kill totals and over in match time were lock of the century and I regret not making those wagers but I digress. Gen.G can't seem to win games unless teams let them scale and that's a problem with the new look Korea.
KT Rolster struggled early in the season and they've looked far from what I expected them to be but they are slowly improving. They also have the right idea, to be proactive and aggressive as well as a willingness to actually act on it, which teams like Gen.G and Jin Air simply don't have.
This pick boils down to whether or not you feel Gen.G change or not. This team is stubborn and they have been for the past two years. I'm not relying on them to adjust and change so the only doubt in mind for this is whether or not KT botch a lead like they did against Jin Air in game one. It's possible but not likely if you ask me. I love KT here. They're trending up and Gen.G are just stagnating. They struggled mightily against Jin Air and even then showed us nothing new or different, simply winning because Jin Air is not an LCK caliber team right now. KT should be able to run over Gen.G.
Moneyline: KT Rolster -164 (2 units)
Handicapped: KT Rolster -1.5 maps @ +174 (0.5 units)
PROP (O/U): Map 1 UNDER 34:00 @ -114 (0.5 units)

PROP (O/U): Map 2 UNDER 34:00 @ -114 (0.5 units)