LCK Summer 2019 - Week 4 Day 5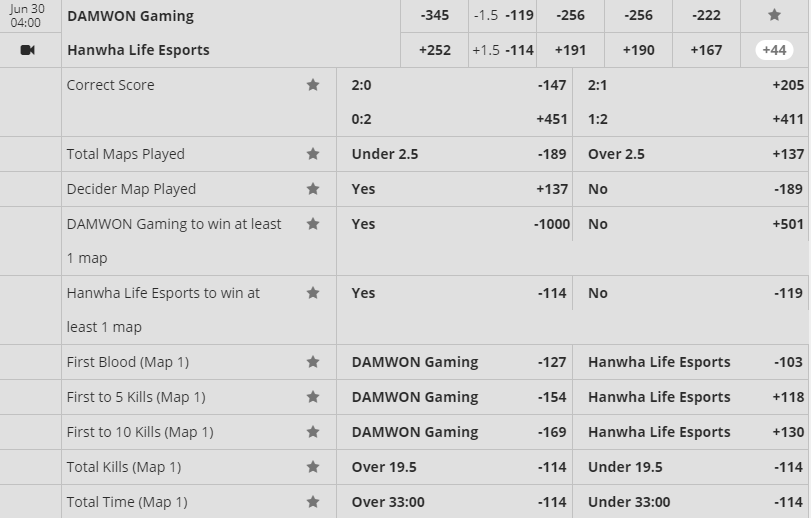 DAMWON have gone to a game three in five out of their seven series played this season but are coming off of a solid 2-0 performance against a good, albeit misguided, Afreeca team. This is a team that has dropped games to SKT, Jin Air, and KT Rolster so I'm rather skeptical to bet the 2-0 but I think it's the right side here. Kingzone were weirdly one dimensional against Hanwha in the game one that HLE won and once they "woke up" and snapped out of it it was a pretty clean dismantling by Kingzone including a few highlight reel Azir ultimates by Naehyun. This feels pretty bad because of how many three game series DAMWON have had this season but their solo lanes, Nuguri inparticular, should be able to run away with this one. DAMWON aren't going to let Hanwha scale like they've wanted to with how they've drafted in their most recent matches.
We'll keep it light because of DAMWON's history of punting games to weaker teams but I do feel the -1.5 is the correct spot here. We're actually going to a s small hedge. I don't do a lot of this type of thing but I think in a situation as specific as this I actually like it. What this means is if DAMWON do win the series but drop a game we recoup half our -1.5 wager and if they win we net a little over two units.
Spread: DAMWON -1.5 @ -119 (3.5 units)
Prop: Exact DAMWON 2-1 @ +205 (0.75 units)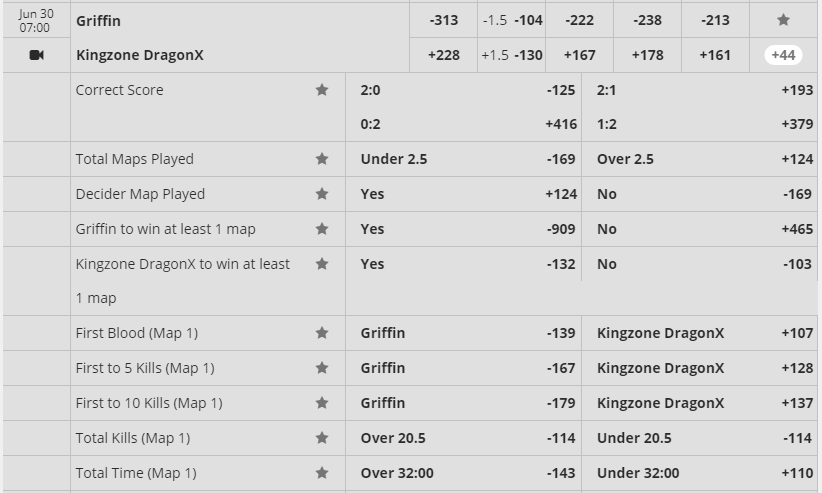 Kingzone haven't look quite as invincible in their past few series. For the most part they're playing very well but they seem to have games where they either lose focus or just get weird tunnelvision like in game one against Hanwha where they just kept trying to 5v5 against Azir/Gangplank. Kingzone are a team that wins with strategy and intelligence and the games where they either don't outsmart you they're a much more mortal team. Kingzone are also vulnerable in their solo lanes. Naehyun and Rascal have been playing really well for the most part this season but they're not on the same level as the elite solo lanes in the LCK and unfortunately Sword and Chovy are in that bunch. Kingzone's two losses are to DAMWON and Afreeca, two teams with elite solo lane talent. Griffin are similar except they're an even better team. (NOTE: The Afreeca series wasn't just the solo lanes losing, Afreeca outmaneuvered Kingzone so I don't want to mischaracterize that match as the DAMWON solo lanes owning only)
I keep trying to pick this game apart but it just continually comes back to the top trio of Griffin vs the bottom lane of Kingzone and I'll take the top trio every time even if I think the bottom lane might be a slight edge to Kingzone. I just can't figure out how Kingzone are going to manage both Sword AND Chovy either in the draft or with in game strategy. These two are dumpstering just about everybody and for a team that struggles with solo lanes I'm not sure any amount of creativity or intelligence can bail them out. It's what makes Griffin such an insane foe to face. I think Kingzone are going to have to sell out for early game and try to run Griffin over, something very few teams have been able to do.
Spread: Griffin -1.5 maps @ -104 (3 units)
---------------------------------
LPL Summer 2019 - Week 5 Day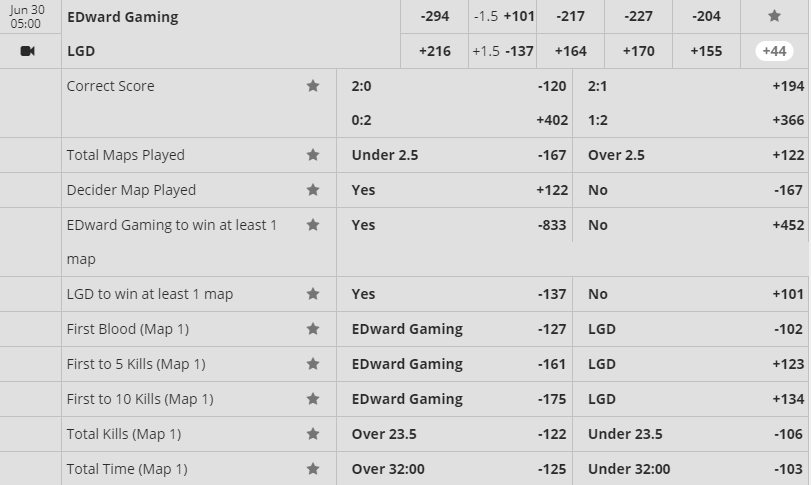 LGD have been surprisingly competitive against good teams taking games off of RNG and FunPlus (one of two game losses they've had so far this season) but they've also had some losses to bad teams and have been messing with the jungle position in hopes of replacing the banned veteran Condi after the match fixing scandal. This team should be decent and with another week of practice they could be closer to a solution but EDG are going to be motivated to "get right" after losing their last three matches and LGD could be just what the doctor ordered. EDG have announced their full starting lineup and I expect a sweep here. I know EDG have looked shaky of late but I can't help but think this team gets back to their winning ways. This is one of the better teams in the LPL and unfortunately for a floundering LGD this isn't what they wanted to see in a spot like this. We're also getting great odds for a great teams vs a bad team so I'll take the risk on the spread here.
Spread: EDG -1.5 maps @ +101 (2.5 units)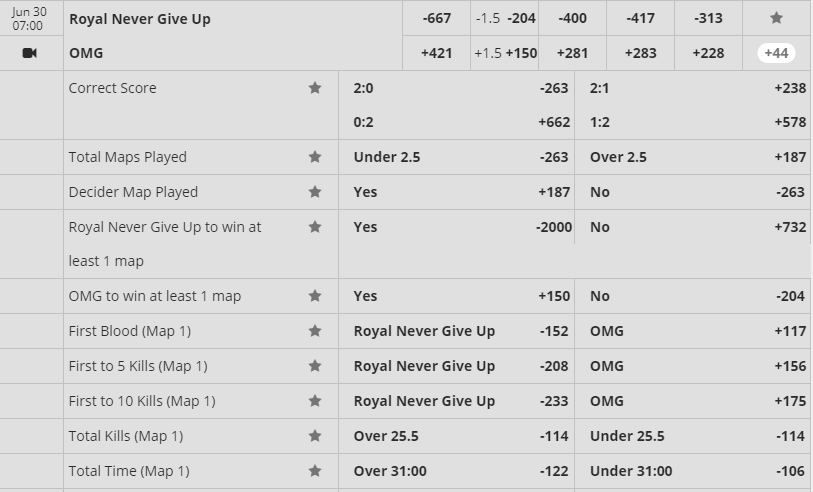 This is exactly the kind of series where RNG punt games and during the podcast this week I pointed this out as an exception because the odds were exceptionally good (-156 at the time) but now that it's up in the -200 range I actually like going the other way here. I think OMG can steal a game here. RNG have been punting games to bad teams a bit less this season specifically but I could definitely see it here even with OMG starting World6 in his first match in the jungle. This is a value selection. I think the odds are just too good not to try OMG +1.5 here even though I think RNG are very likely to 2-0 this.
Spread: OMG +1.5 @ +150 (1 unit)
------------
Parlays:

Parlay (4): RNG ML + EDG ML + GRF ML + DAM ML @ +145 (2 units)

I'm putting half a unit each on these in different permutations of two, three, and four:

RNG -1.5 / OMG +1.5
DAM -1.5
GRF -1.5
EDG -1.5

Also putting a quarter on my patented "worst case scenario" parlay of the following:

"Worst Case" Parlay (4): OMG +1.5 + KZ +1.5 + LGD +1.5 + OMG +1.5 @ +1476 (0.25 units)