LCK Summer 2019 - Week 10 Day 1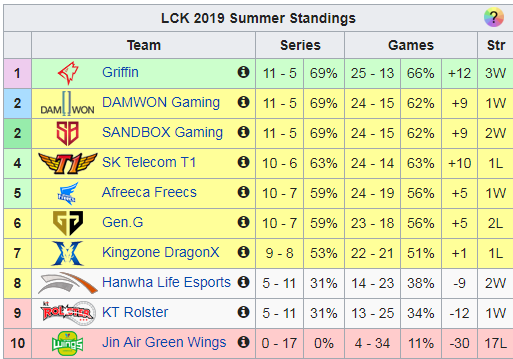 (from Leaguepedia)
The current playoff race for the LCK realistically goes all the way to 7th. Kingzone no longer control their own fate as they would need to win their last match against KT Rolster as well as have Afreeca AND Gen.G both lose their final matches. Afreeca need to take care of business against Hanwha Life and have Gen.G lose their match to DAMWON on Sunday. SK Telecom has two matches remaining one tomorrow against DAMWON and another on Saturday against Sandbox but they could make a theoretically jump all the way up to first place with wins over both and any Griffin loss in their last two series (but they play Hanwha and Jin Air...).
I think the most likely outcome projecting forward a bit is that Afreeca are going to earn the last playoff spot and quite frankly I'd rather see them make playoffs than Gen.G or Kingzone in their current form. I also think SK Telecom are going to beat both Sandbox AND DAMWON but that DAMWON will likely beat Gen.G (motivations aside) later this week. This would put SKT into second place because they'd have the better game differential than DAMWON and Sandbox if they win out and defeat both of them.
It's a lot of moving parts, it's really close. Get your foldable grids out!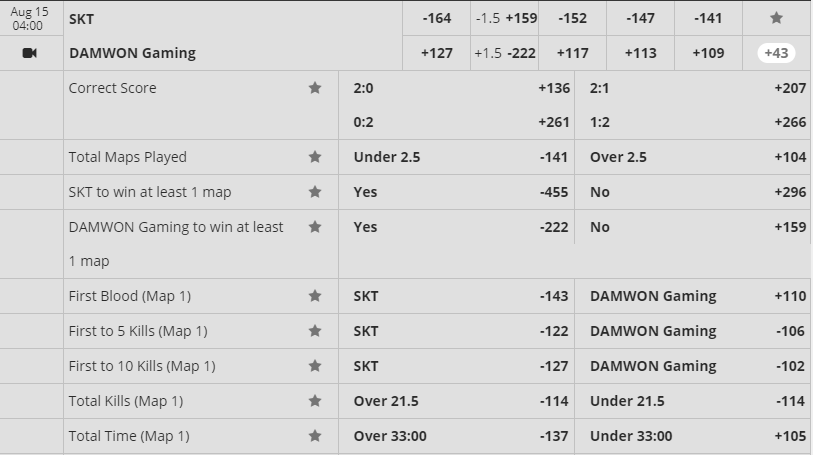 This is a huge match for the standings because the winner will likely finish second or third in the final standings assuming most things go as they appear. Almost comically both of these teams just lost to Hanwha Life so you could say we have that measuring stick available. I'm not putting too much weight on those series HOWEVER I do think DAMWON showed much more significant flaws in their loss than SKT did. Hanwha outplayed SK Telecom playing what I'd consider their best series of the entire calendar year BY FAR. SKT got run over early in both games one and three mostly be good proactive plays by Hanwha. DAMWON, on the other hand missed really routine professional concepts like not playing aggressive in the 2v2 lane when the jungler can ONLY BE BOTTOM AT THAT TIME and then immediately doing the same thing top and then doing it again in the next games. I chronicled this on my Twitter that day but quite frankly that's unacceptable for a high level or even medium level professional team. Even if they're "mailing it in" that sort of thing should be automatic and it's disturbing that it wasn't. DAMWON came right back and smashed KT Rolster the next series but that kind of lack of fundamentals is profoundly disturbing to me and quite honestly made me question whether or not DAMWON have really developed their macro as much as many of us thought over the course of the year and didn't, instead, just get really lucky. If it's the latter I'm going to be really disappointed in my film analysis but time will tell I suppose.
I'm going to be on SK Telecom here. They were absolutely rolling up until the Hanwha Life loss and while I thought Hanwha played extremely well more than SKT played poorly I could see the argument against them. I think SKT have been resoundingly the better team over the course of the second half of the season. That said the entire season has sort of come to this apex and this specific match has massive implications. SKT have a history of showing up in spots like this and their collection of grisled, Hall of Fame-bound super stars is built to shine in spots like this. DAMWON have been sputtering a bit and have shown some extremely poor fundamentals in the past few weeks. I could see them snap out of it and "get up" for this match but I'm going to side with the previously molten hot SK Telecom lineup. I think DAMWON are firmly in the 1.5 tier while SKT look like one of the two best teams in Korea.
I also didn't spend much time discussin the X's and O's of this match but DAMWON are clearly having trouble with Azir currently. Showmaker hasn't had good performances in either of his games (both against Hanwha) and they banned it against KT Rolster the following week. Faker is also a perfect 6-0 on what has become one of his modern signature picks. It's just one champion but it's a crucial one right now and if DAMWON don't feel they can pilot it effectively that could have massive implications on the draft. I also think DAMWON's lane aggression isn't something they can rely on to solely carry them against lanes the caliber of SK Telecom's.
I like the SKT moneyline here a lot. If they break serve in game one I fully expect them to 2-0 this series. I'm going to put a few units on the spread but a much heavier five units on the moneyline in this spot. I've lost a lot of respect for DAMWON in recent weeks and I don't think this is a case of "sandbagging" or the season growing long on them or anything they've just been fundamentally bad. Of course their players are good enough to just pop off in any given game but I'm going to stick with the tried and true here. SKT have been ridiculously consistent and very efficient. Both of these teams like playing uptempo so regardless of the winner I like the UNDER time.
Moneyline: SK Telecom -164 (6 units)
Spread: SK Telecom -1.5 maps @ +159 (3 units)
O/U: Map 1 UNDER 33:00 @ +105 (1 unit)
O/U: Map 2 UNDER 33:00 @ +100 (1 unit)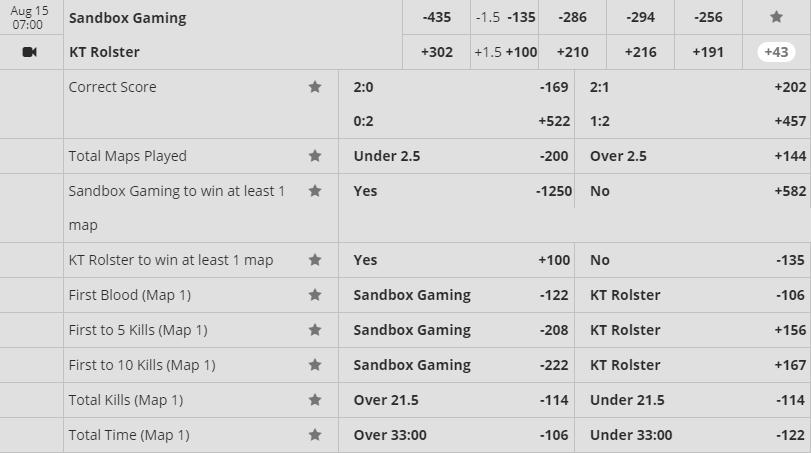 Sandbox are making it work. It's not pretty but they're getting wins when they need them. To me Sandbox fall into that tier 1.5 in the LCK with DAMWON, Gen.G, Kingzone, and Afreeca. They all have very clearly defined weaknesses but have great enough strengths that they can overcome those. The thing with this series is whether or not you want to gauge KT Rolster as a defeated team that's assuming they're relegated because they're trailing Hanwha by three games OR if they'll be hyper motivated to show up for this match and win outright. With two matches left each Hanwha and KT Rolster I believe will be playing hard looking to not only play spoiler but avoid relegations. Realistically Hanwha only needs a single game win because I doubt KT Rolster will 4-0 both Sandbox and Kingzone BUT until KT Rolster see that they're going to fight for their lives.
So the question is whether or not we think KT on life support is enough to overcome Sandbox battling to hold a top three spot. Hard to tell. I think Sandbox have very clear flaws but I'm not sure KT Rolster are the team to exploit it. BDD is an exceptional player and the mid lane meta is damn near perfect for him right now which is going to cause a lot of problems in the draft.
Sandbox SHOULD win this but I think the odds we're getting on KT Rolster are more than reasonable. KT was, in my opinion, worse at the beginning of the season and played a slugfest three game series including a game two stomping against Sandbox the first time around. I actually expect KT Rolster to get a game here and perhaps win outright.
Moneyline: KT Rolster +302 (0.5 units)
Spread: KT Rolster +1.5 maps @ +100 (1 unit)
--------------
Parlays:
Parlay (2): SKT ML + Afreeca ML (Friday) @ +119 (2.5 units)
Parlay (3): SKT ML + Afreeca -1.5 + Griffin -1.5 @ +312 (0.5 units)
Parlay (3): SKT -1.5 + Afreeca -1.5 + Griffin -1.5 @ +563 (0.5 units)