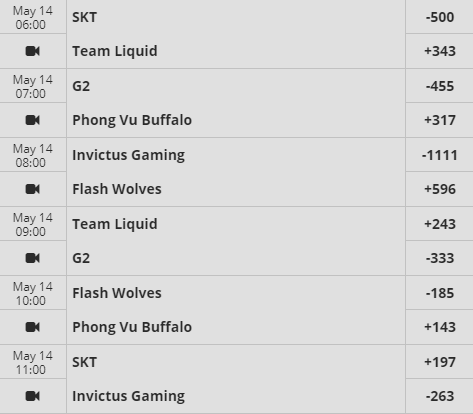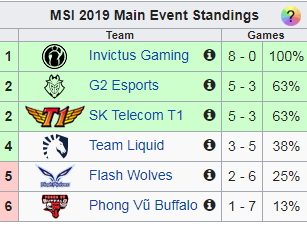 (from Leaguepedia)
As we head into the final day of the main event group stage we're left with the above standings and really only a couple matches that matter. I haven't been able to definitively find the tiebreaker rules but assuming it goes next to head to head record and if that is tied there is a tiebreaker game we're left with the following:
Flash Wolves must win AT LEAST one game to force a tiebreaker with Team Liquid and that's only if TL lose both games.
Team Liquid can clinch a knockout stage berth with a single win against either SKT or G2.
Phong Vu would need to win both games AND have Team Liquid lose both of their matches.
Invictus have already secured the #1 seed meaning they get to choose the #3 or #4 as their opponent in knockouts which means that G2 and SKT are effectively fighting to avoid Invictus. Because of the unpredictability of best of ones where there is limited impact on the standings or playoff seeding it's really quite difficult to determine who will be motivated to continue playing or to conceal information so we won't be playing a lot on this slate.
--------------------------
SK Telecom vs Team Liquid
I'd expect SKT to win this match but you could make the argument for betting Team Liquid in this spot. They're in "must win" mode while SKT don't necessarily have to if you assume Invictus would choose Liquid over SKT (like I do). That said, I don't think SKT will want to tempt fate, as especially against a team with Invictus' bravado. It actually wouldn't surprise me at all to see IG choose SKT for the challenge that's how ballsy they are. It's really tough to get a read on this match. I'd expect a slower paced, disciplined, low-kill endeavor between these two stylistically similar teams but I also think SKT are a better enough team that it wouldn't surprise me to see them roll here. I'm abstaining from this game but have strong leans on both the UNDER 32:00 and UNDER 25.5 kills.
No wager
--------------------------
G2 eSports vs Phong Vu Buffalo
A team with nothing to lose (Phong Vu) can be a dangerous thing but I think in "must win to avoid IG" mode, G2 will take care of business and avenge their first loss here. We once again get an absurdly high total that eclipses all the other numbers we've seen. 33.5 is a ridiculous number and while I've been burned all tournament assuming that number is too high I expect a much more controlled game by G2 with a lot on the line in their first game of the day tomorrow. PVB will do their thing but I expect G2 not to tempt fate this time around and just play a clean 1-3-1 here. PVB have shown no ability to deal with that strategy whatsoever and G2 excel at it.
Over/Under: UNDER 33.5 kills @ -105 (2 units)
--------------------------
Invictus Gaming vs Flash Wolves
Flash Wolves must win this and IG have shown a willingness to more or less clown around and have fun. With nothing on the line for them other than information I'd expect IG to try to show us some weird picks to maybe bait bans in the knockout stage from other teams OR to just relax and have fun. Even with these factors taken into consideration I do think it's still very likely that IG win even if they're goofing around but not enough so to not take a flier on the Flash Wolves at this number. I've been wrong all tournament about almost every bet on IG but in this game I'll take the over 33.5 kills.... yea I know I'm nuts but this team just breaks all logic and reason. Half a unit there in what I'm assuming will be an absolute clown fiesta that MAYBE Flash Wolves miraculously pull off.
Moneyline: Flash Wolves +596 (1 unit)
Over/Under: OVER 33.5 kills (0.5 units)
--------------------------
Team Liquid vs G2 eSports
G2 will need to still play this game ESPECIALLY if SK Telecom defeat Team Liquid in game two of the day if they want to truly avoid IG until finals but this should be a slugfest of a game. Team Liquid have really impressed me and I was higher on them than most people going into this tournament. Even if TL beat SKT and G2 wins their first match this could ice #2 for them so I expect this match to be full effort by both sides.
No wager
--------------------------
Flash Wolves vs Phong Vu Buffalo
Not really sure how this ends up. My gut says exactly like the last one since PVB have appeared to struggle with teams that play like the Flash Wolves want to. The key word, however, is WANT to. Flash Wolves have had a lot of problems with execution and while they've had some nice ceiling performances in this tournament I'm not sure what we can expect from a game to game perspective especially when both of these teams are potentially done for the tournament by the time this match rolls around. I'm just avoiding this one.
No wager
--------------------------
SK Telecom vs Invictus Gaming
Part of me thinks Invictus absolutely stomp this just as a statement even with nothing on the line, the other part thinks SKT get their revenge. I'll say this. Even with the 16 minute route of SKT the first time around I don't think we should just assume IG are unbeatable and that SKT are bad. I actually love SKT in this spot. I also love fading victories like that no matter how impressive IG have looked this tournament. How often are we ever going to get SKT +197 against anybody?
Moneyline: SK Telecom +197 (2 units)