LPL Summer 2019 Week 1 Day 1: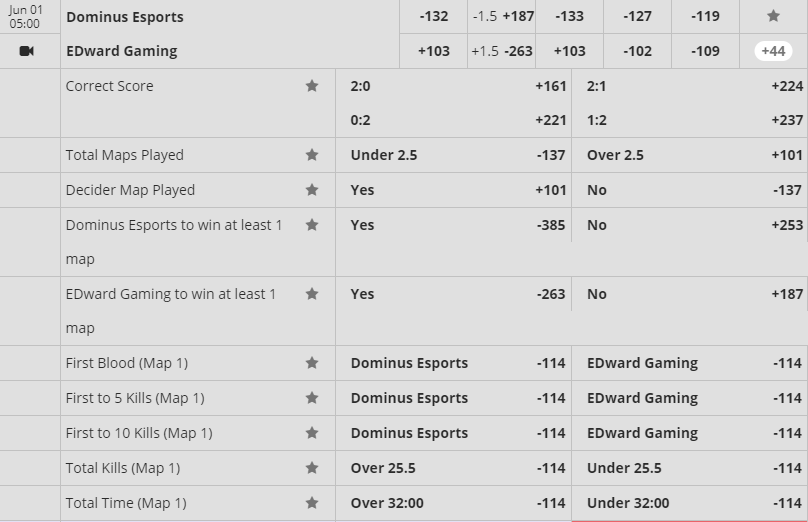 For those that don't know Dominus is SinoDragon from last season after a rebranding. They actually took down BiliBili in the finals of NEST, an offseason tournament in China. Most teams atart a combination of challenger league players, subs, and starters. Some teams care about it, others like most playoff teams, take the time to rest their starters. SinoDragon did look good in this tournament but I put very little stock into NEST as, historically, it has meant next to nothing because it's hard to judge what the results mean when not everyone is as invested in winning it. With that said.....
This line moved a ton. It opened at EDG -161 where I proceeded to slam it like a young Shaq over Chris Dudley for six units.

Was it aggressive? Absolutely. EDG have a new top laner in Jinoo and many teams don't immediately have chemistry especially with that player being added less than a week before tomorrow's opening day. SinoDragon looked really good in NEST and while that tournament might not mean much, you could argue the continuity factory alone is a reason to think Dominus should be favored here. Sure. All of that is great but I'm looking at this in a much simpler fashion. EDG have better players at every position and I think by a wide margain. I have EDG as the best team outside of the elite tier of IG, FPX, and RNG and I could definitely see them joining that tier if Jinoo blends in with this roster quickly.
A theme since MSI and for most of this season has been that good players trump teamwork in the current iteration of League of Legends. It's not that we have long lane phases or split pushes every game but, simply put, you just want bonafied studs to make plays. It's why G2 won MSI. They just have straight up ballers at all five positions regardless of any of their perceived weaknesses. I know it sounds like overgeneralized commentator speech but watch some high level games from this season and tell me that it isn't the case? You can't. I'll take five better players all day long. I'm so confident in EDG that I actually think even if they choose to run Sleepy (their alternate top laner) that they'd win this series.
Another angle to this is that EDG finished last season really poorly relative to the expectations that organization has built up over the years and they'll be hell bent to remind everyone why they're good again. Yet another angle is the basic betting principle of betting week one and preseason futures are the time where you will get the best value because it's before the books/data can exercise it's edge over you. I'm often very heavy in week one in every region not just because of my confidence but because I feel it's the best time to attack lines. It's how I do it in football as well.
I'm aggressively heavy on EDG here so I'd say tail at your own caution but I couldn't resist adding on to this selection when the line went haywire enough to make Dominus/SDG favorites. I have a lot of exposure on this game so I'd suggest setting your own limit of halving what I have here but I'm willing to take this loss on the chin if it happens and not feel bad about it.

(UPDATE: JieJie and Jinoo announced as starters with Scout, iBoy, and Meiko. JieJie starting lowers my confidence in this a bit but I still think EDG have a good chance at winning this so we're going to hold off on a hedge for now and see how the opening game goes.)
Moneyline: EDG -161 (6 units)(opening bet)
Spread: EDG -1.5 maps @ +169 (2.5 units)(opening bet)
Moneyline: EDG +103 (2 units)(add on)
Prop: Exact EDG 2-0 @ +201 (2 units)(add on)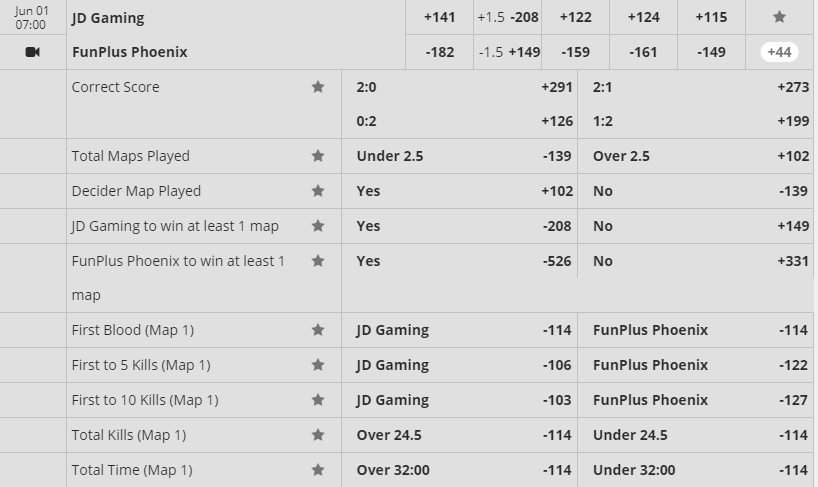 As you all know by now I'm not buying JDG and while I was hoping the books would set this line with "hype" bettors in mind the algorithm spat out what appears to be a fair and accurate line. JDG had one of the flukey-est runs to the finals I've ever seen in any region or tournament defeating WE, RNG, and FPX before being whooped in a little over an hour by IG in three games. They caught good stylistic matchups for the one, single thing they're good at against WE and RNG and FunPlus seemingly forgot how to play League of Legends and still almost beat them.
I need to make one thing clear: JDG are not a great team. Are they a playoff team in the LPL? Probably but not definitely. FunPlus are one of the elite squads in the LPL and even if you cook a drop off into the equation are still a tier or two better than JDG if you ask me. You also know FunPlus has this day marked on their calendar since that loss and are going to be ready to go full Tom Brady FU Mode on JDG for ruining their finals bid in the fashion that they did.
Unlike the EDG/Dom series we aren't getting a tremendous value on what should be a heavy favorite in FunPlus but I do feel strongly enough that they'll win this game that I did put a wager on the FunPlus spread on Wednesday. The line has since moved and while I'd still bet it it's getting close to out of range so fire if you like it.
Spread: FunPlus -1.5 maps @ +145 (2 units)
---------------------------------------
NA LCS Summer 2019 Week 1 Day 1: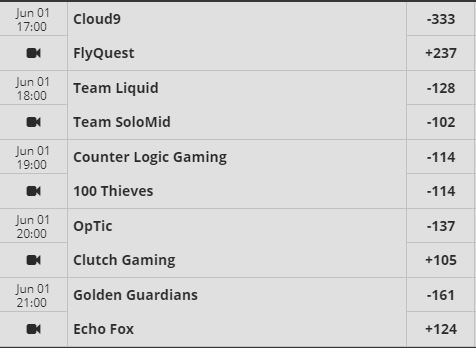 Week one in best of one regions always make my mouth water for upsets. I also salivate at the possibility of mispricing based on playoffs or last seasons results. Best of ones are really high variance and it's honestly tricky to even draw generic conclusions about teams from 18 games but one I was almost as sure about as the sun rising in the morning was that 100 Thieves were going to bounce back. I have a self imposed limit of three units on best of one games because of the volatility but I'm going to fire aggressively on a few of these because again, Week 1 is often the best value we're going to get on some of these teams so you need to plant your flag early unless you want to be more conservative and wait. That's not me.
I'm betting against Cloud 9 both today and tomorrow not because I don't think they'll win but because I think FlyQuest and Clutch are decent teams, this is best of one, and Cloud 9 tend to experiment with their roster, drafts, and strategies a lot before figuring things out toward the end of the season. They're also traditionally slow starters. The main reason is that I don't think Cloud 9 is -333 better than FlyQuest.
Moneyline: FlyQuest +237 (0.5 units)
I think there is a chance we see a very short hangover from Team Liquid but I also think this team isn't the type of team to do that and that they could likely beat TSM even if that were the case. I think this line is probably accurate when you take into consideration those factors and TSM being a good team as well but I like Liquid here for a few units. I think with their new found confidence they'll be in full smash mode and particularly against TSM who almost stole finals from them they're going to want to put TSM in their place. The counterargument is "MSI hangover" and the TSM was good against TL last season. I'm planting my flag on the Liquid side.
Moneyline: Team Liquid -132 (3 units)
As I mentioned earlier I'm super high on 100 Thieves coming off a tremendously disappointing Spring where just about everything went wrong for them. They're up against a lethargic CLG team that made a very small upgrade from Darshan to Ruin but ultimately didn't really change the fortunes of their team unless I'm dead wrong here. I think CLG are going to be one of the bottom two teams in NA this split and I think this price is based heavily on the results of last season for both squads. I'm just high on 100T to finish more where we expected them to last season but CLG I think ends up much the same. I'm so confident in fac that I'm making an exception to my three unit best of one limit and goin super heavy on 100T on both Saturday and Sunday.
Moneyline: 100 Thieves -127 (7 units, Pick of the Week!)
I love the Clutch rosters upside and the bounceback potential from a rough season last split. I don't think they're that much different a team than OpTic but I did place them half a tier apart and we are getting a ton of value with Clutch here. I'm expecting the Huni/Lira combination can't possibly be as bad as they were last season and will get back to their carrying ways here. A bit narrative driven but hey, just being honest. This is mostly a value selection as I have Clutch rated slightly higher than OpTic.
Moneyline: Clutch Gaming +127 (3 units)
I think Echo Fox end up as one of the bottom two teams in the league and I think Golden Guardians are a playoff team. I'm not ruling out an upset though and if Echo Fox are going to end up better than that bottom two rating I gave them then this is a good spot to prove me wrong. I think unfortunately for Fenix, Froggen was an absolute monster just like his old self last season and will be a handful for Echo Fox's best player to deal with.
Moneyline: Golden Guardians -164 (1 unit)
------------------------------------
Parlays:
Parlay (2): 100T -114 vs CLG + 100T -125 vs OpTic @ +238 (0.5 units)

Parlay (2): EDG +103 + FPX -182 @ +215 (1 unit)

Parlay (3): TL -132 vs TSM + EDG 2:0 @ +201 + FPX -169 @ +724 (0.5 units)

Parlay (3): CG +127 vs OPT + GG -164 vs EF + TL -132 vs TSM @ +543 (0.5 units)

Parlay (5): CG +127 vs OPT + GG -164 vs EF + TL -132 vs TSM + EDG 2:0 @ +201 + FPX -169 @ +2978 (0.5 units)

Parlay (5): FPX -169 + EDG -109 + GG -164 + CG +127 TL -132 @ +1864 (0.5 units)

"Saturday Exacta" Parlay (7): C9 -270 + TL -132 + 100T -127 + GG -164 + CG +127 + EDG 2:0 @ +201 + FPX -169 @ +7449 (0.25 units)

"Saturday Exacta 2" Parlay (7): C9 -270 + TL -132 + 100T -127 + GG -164 + CG +127 + EDG -109 + FPX -169 @ +4715 (0.25 units)

"Saturday + Sunday Exacta" Parlay (7): C9 -270 + TL -132 + 100T -127 + GG -164 + CG +127 + EDG 2:0 @ +201 + FPX -169 + 100T -114 + RNG -1.5 @ +107 @ +29279 (0.05 units)