Worlds 2019 - Quarterfinals Day 1
Before I dive into these games I just wanted to remind everyone to enjoy this. This tournament has been incredible so far and we've got even more high level matches to come. Marvel at that and remind yourself to enjoy this regardless of the results or impact on your bankroll.
--------------------------
Griffin -150 (-1.5 @ +115, -2.5 @ +347)
Invictus Gaming +130 (+1.5 @ -145, +2.5 @ -475)
Kill Spread: -3.5 @ -110 / +3.5 @ -115
Kill Total: Over/Under 26.5
Bear with me because there is a ton to unpack with these two teams so this one runs quite a bit longer than my usual writeups.
I want to take some time to discuss my thoughts on the narrative bias that I think is happening here but I should clarify that it has next to no bearing on my analysis for this game. It's just something that I think needs to be talked about because there's a lot of noise and assumptions going on right now about both of these teams and I think you should know where I stand and what I think about these preconceptions.
The first is the "Griffin always choke in big spots" argument. I know where this comes from. Griffin have finished first place in all three of their first three splits in the LCK but have lost in the finals three times, twice to SKT and once to the KT super team from last year. I'll concede that Spring finals this year in 2019 they severely underperformed expectations but their matches against SKT in the Summer I found to be much closer than the final box score indicates. When you get two great teams you'll often see these lopsided looking results because they both know exactly how to close out a game. People overreact big time to lopsided results that are in highly publicized or viewed or "important" spots like a championship final or a playoff match. Just like aces in poker you're going to remember the times you lose with them way more than the times you win with them. It's human psychology. It's the Lebron vs Jordan argument. I don't hold it against Griffin that they have lost three finals against two incredible teams. I don't even hold it against them that they lost in the way that they did because that's often how it looks when an incredible team beats you. I look at larger sample size and repeatable results and Griffin have that in spades. Let's not forget that Invictus also "choked" in a big spot getting swept by a team that you could argue shouldn't have even made the LPL playoffs in LNG and they did this without their Worlds seed locked up. All Invictus needed to do was win that one series and they would have locked the #2 seed for the LPL at minimum but they lost. Talk about a choke job...
The second is the concept that bringing the World Championship lineup back together is suddenly a massive buff to Invictus. Generally speaking I'd say that Ning is an upgrade over Leyan overall but I think they're closer than people seem to want to admit because one was the jungler during a time of transition and relative turmoil for Invictus (Leyan this Summer with all the lineup changes constantly) while the other was the MVP of the World Championships in 2018.
(excuse my terrible editing, numbers from Gol.GG)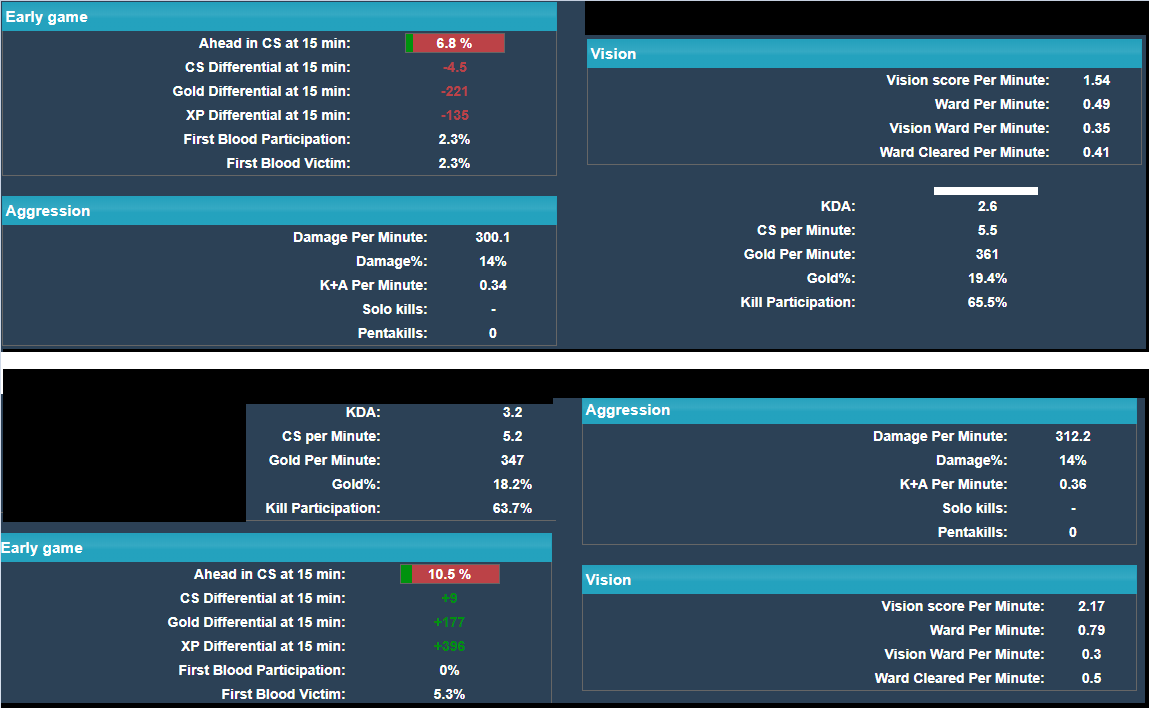 Look at the chart above and tell me which jungler is which. This information was taken from the entire year worth of stats for all three junglers. It's not always a great measure of a jungler to look at their stats. I'll admit there is always a ton of noise in the metrics and statistics for junglers because the position is a lot of outside the box things to track such as game situations, proximity, leverage, metagame and draft considerations, and stylistic tendencies but I just wanted to illustrate something. The first is Ning for the entire calendar year of 2019, Spring, Summer, MSI, playoffs, and his three games at this tournament. The second is Leyan, who admittedly has a rather small sample size and was mostly dealing with a lot of lineup changes. The third is Tarzan. Again numbers aren't a great thing to measure junglers by because they're the most unique position to their team but I thought these told a rather compelling story. Not only do I think the Ning/Leyan differential is being a bit overexaggerated because of something we're going to talk about next but I also think the difference between both of them and Tarzan is pretty huge.
The third is bias based on past results which somewhat explains both of the previous points. Griffin are being underpriced because "they choke." Invictus are being overpriced because they brought the band back together and won a three games. Don't get me wrong, Invictus' lineup was the highest variance aspect our evaluation for this team heading into the tournament. All I'm saying is that I think we all might have put a little too much weight on it.
I usually can't stand the whole transitive comparison style of analysis but it's rather interesting to give at least some perspective in this case. You've heard me preach the small sample size argument but let's just do a little bit of a thought experiment on the transitive comparison of teams that people like to meme on but a lot of people actually tend to use. What's more impressive: whooping G2 twice and getting whooped once or losing a fairly close game to DAMWON and whooping Liquid once? I'd put more weight on the G2 wins. Another transitive hypothetical. Do you think Griffin is a stronger team than DAMWON? Obviously there are stylstic and matchup dependent considerations but I'd say Griffin are definitely a stronger team. How about your thoughts on G2? Was G2 a championship favorite for you? They certainly were and still are for me. I know getting out with a #1 seed doesn't define you as a truly superior team in a small sample size but given what we see now with the "Return of the Korean Teams" who all attained #1 seeds out of groups shouldn't we be a little bit more impressed with Griffin's 28-10 overall match record? That includes the two finals losses to SKT. The LCK was ridiculously competitive and reinvented itself this year and Griffin still put up those results. Just some food for thought.
The more I research and analyze this matchup the more I like Griffin. Even a few days ago when we recorded The Gold Card Pocast I was of the mindset that this line was too large even if I liked Griffin to win thinking that it should be closer to even money, maybe something like Griffin -120 / Invictus +100 or something like that. After rewatching a lot of the group stage matchups over again and going back even further to watch some previous playoff matches from these two squads to get a more in depth look at how they tend to handle things in longer series I've somewhat reversed my initial take on this matchup.
Invictus still look like they're playing a more standardized style even with Ning at jungle which is to say that they didn't change up their approach too much. It's possible that's because of the short time frame or their philosophy on playing best of ones or a scouting decision based on their opponents but I don't think we should automatically assume things are drastically different with Ning in. Is he an upgrade? Yes. I discussed this above. Generally I think Ning knows how to get his incredibly talented solo lanes ahead better than Leyan does and that's one of the calling cards for Invictus but the uptempo, timing-based skirmishing we saw from last year and Spring's version of Invictus doesn't appear to be the direction they're taking.
We've talked about how Invictus had to change to accomodate all of the roster changes. It was one of the reasons I didn't have them getting out of this group. They no longer had that intangible. Without their blazing fast pace to get an edge it was hard for me to consider them that much different than any of the other top teams. In other words they were a more homogenized team. It's impressive that they were still a world class team but when you have players this good it's not at all surprising. All of this could change because these players and this team are extremely good but I'm willing to bet that in a single week that Invictus aren't just going to morph into the team they were in Spring this year or at Worlds last year and because of that we shouldn't treat them like the team they were last year but instead the team we've seen recently with maybe a bit of a bump up in performance
Griffin are what they are. They're doing the same things, playing the same style, playing at the same level they have been. Griffin aren't doing anything that they haven't been doing all year long in the LCK. Going into the tournament the only concerns people had were how they'd respond on their first World stage and how'd they'd handle the more unique and wild teams like G2. Again, it's a small sample size but I think they've answered both of those questions so I see absolutely no reason not to consider them one of the best teams in this tournament now. What more does this team need to do? For me it's nothing. I'm convinced.
I could go into the X's and O's of this matchup but we talked a lot about the matchups that were intriguing on the podcast this week and this has gone on quite long anyway. TheShy vs Sword/Doran is the one in favor of Invictus it's just a matter of "by how much" and Tarzan against Ning/Leyan is the one in favor of Griffin. Griffin are a stronger macro team and make fewer mistakes. Invictus are an incredibly good team fighting team with exceptional laners. We're also going to get to see two of the best players on the planet in in their positions in Chovy and Rookie battle it out in the mid lane. The matchups are compelling.
At the end of the day, having watched every single game from both of these teams this year, many of them multiple times I'd say Griffin are the better team by quite a bit. Going into this tournament I would have said Griffin by a decent margin but I wanted to see how they'd perform on a big stage like the World Championships. They've answered those questions for me. I'm not saying Invictus are a bad team just that Griffin are a better, and more importantly, more consistent team. I mentioned earlier that Griffin are what they are. They aren't doing anything different and they're smashing. Invictus are still a world class team but they aren't the same team we saw in Spring or even at MSI. If we had that Invictus vs Griffin I'd think they're more stylistically equipped to deal with Griffin's by the book, technique perfect approach but I'm not sure if this Invictus has the same weapons to attack with despite having the same names.
Unless you think Griffin suddenly turn into a pumpkin AND Invictus elevate from the level they showed in group stage then I don't see how you don't have Griffin winning this series. I'm saying it's going to require both of those things to happen for Invictus to win this. Could it happen? Absolutely but I'm betting on consistency. Like I said before, I've reversed course on this in the past few days where I was looking to bet Invictus because I had these two teams similarly rated and liked the value of the underdog. I now think Invictus are definitely the underdog and that Griffin have shown more reasons to be the favorite in this matchup. This Griffin team is simply too good. Invictus are going to have to get them out of their comfort zone and I don't think they're equipped to do that in their current form. If G2, perhaps the best team of all time to get you out of your comfort zone, struggled to do that then how much more likely is Invictus to do that? I'd wager not at all.
It's very rare that I have this much of a change of heart in such a short time but I've spent a lot of time combing over VODs and just thinking about this matchup in the past few days. Admittedly Griffin are one of my favorite teams as well so perhaps there's some level of bias here but
I'm going with Griffin to win this series and not only that but I'm going a step further and going with Griffin to win this entire tournament.
This team is an absolute machine. They're the closest thing I've ever seen to a supercomputer like DotA 2's Open AI team. They do everything exactly how you're supposed to every single time and in so many different scenarios. I've gone on record saying that in the more traditional, controlled style of League of Legends, that this is the single best team that I've ever seen and I still think that. You have to get creative and think outside the box or you're simply not going to beat them and even then you still have to execute at such a ridiculously high level AND do that over a five game series in this case.
I also look at the overall level of their region and competition. I've been preaching that "Korea is back" all year and, at least so far, that appears to be the case. Griffin hold a 3-1 match score and a 6-2 game score against DAMWON who just gave Invictus a lot of trouble. Again, transitive property doesn't always apply but stylistically DAMWON and Invictus are more similar than not and are constructed in much the same way. Canyon has also been playing at an unbelievably high level in this tournament and Ning/Leyan have yet to show me anything remotely close to that. Griffin also have side selection and could potentially dictate the intra-series metagame with that for an edge.
I've gone on long enough... As always tail at your own risk but I'm convinced. Call me a homer but I'm putting a little extra money where my mouth is on the future. Consider it "recreational."
Griffin in four. Griffin to win the world championship.
Moneyline: Griffin -145 (4 units)(5Dimes)

Map Spread: Griffin -1.5 maps @ +150 (1 unit)(Nitrogen)
Future: Griffin to win Worlds @ +700 (2.5 units)(Nitrogen)
---------------------------------------
FunPlus Phoenix -140 (-1.5 @ +130, -2.5 @ +355)
vs
Fnatic +120 (+1.5 @ -160, +2.5 @ -490)
Kill Spread: -2.5 @ -117 / +2.5 @ -108
Kill Total: Over/Under 28.5
Another incredibly fascinating matchup that I think will be a much different looking series than our first one tomorrow. One way it is similar to our first match, however, is that we have two teams that looked very different from week one to week two.
Fnatic honestly looked the worst I've seen them since semi-meaningless regular season matches in the LEC this Summer in week one and I was legitimately concerned that we could be in for a let down. They started week two with another somewhat shakey performance against Clutch but did get the win before a decisive punishing of SKT followed by a win against RNG. Personally I think they got a little bit of help from some poor execution by SKT and one of the worst drafts of the tournament by RNG in the final game but guess what? Fnatic took care of business like they're supposed to in that spot.
FunPlus had a weird, flukey loss to JTeam in week one and a loss in an impressive showing by Splyce in week two but otherwise looked more or less like themselves. Intimidating, powerful, but very clumsy at times. I wouldn't say FunPlus underperformed drastically but it did take them a little while to find their footing in the group stage. I think they have some room to improve but it looks like they've figured out how they want to draft now and I'd expect a slightly better performance in a best of five.
I personally think Fnatic could improve a lot upon what we saw in group stage. I think this was a poor showing relative to what I expected from this team coming into the tournament. If you think they improve then I absolutely love Fnatic in this spot even if FunPlus cleans things up as well. Fnatic are a more versatile, flexible team that can play a variety of strategies and aren't afraid to mix it up with a team like FunPlus that loves taking the fight to you. They're comfortable doing that.
I said on the podcast this week that I'd be likely sticking to underdogs for the value in a bunch of matchups that I found to be somewhat closer to 50/50 but we spent a lot of time chopping up this matchup specifically. I think a lot of capping this series comes down to what you put more weight on.
If you think Fnatic can play closer to their ceiling then I absolutely love Fnatic in this spot. They're a more versatile, stronger uptempo team than Splyce who seemed to give FunPlus issues in the early game and I think the'yre a significantly worse team than Fnatic even with the weaker performance vs elevated performance when comparing the two. If you think FunPlus can figure out drafts that will work favorably for them with side selection advantage than I think the potentially massive mismatch in the mid lane could prove fatal for Fnatic. Remember that FunPlus were one of the few teams at this tournament that preferred red side and counterpicking all year long and played red in nearly two thirds of their games. Could be an interesting wrinkle to this series.
Historically I favor versatility in strategy and draft over raw ability which would favor Fnatic in this spot. I also favor fading teams that I think performed worse than their results (Fnatic). That's the strength of film review. I also like to break ties in favor of the team with the best player in the match provided they're equipped to succeed (FunPlus/Doinb). There is a lot of conflicting ideas in this match. I think Fnatic when playing closer to their ceiling win this match more often than not but I'm not entirely convinced that they'll "clutch" it out, a concept I discussed earlier as overexaggerated. Yes the European teams tend to show up and elevate but I'm not banking on it. There's also the angle of FunPlus having a history of struggling in best of fives. Similarly to Griffin they have "choke artist" on the bottom of their name tag too for a lot of people.
FunPlus haven't looked great, and they even struggled against an inferior European opponent. I think they're exploitable in the draft and could potentially be punished for it, as a matter of fact Fnatic likely will punish them, they're really good at that. The difference to me is that FunPlus are really good at playing their way out of bad situations with brute force and I think they have enough of an edge in those types of scenarios that it's worth noting. I also think they've learned a lot about how the rest of the world wants to attack their strategies and will likely have adjustments in mind.
Logically, Fnatic is the side to take in this spot. Good odds, should improve on relatively poor group stage performance, more versatile. FunPlus struggle against more well rounded, intelligent teams that can punish their linear approach and when Fnatic are playing at their ceiling they are one of those teams. The thing with Fnatic this tournament to me is that it looks like they're playing really impulsively to me and I don't think that's a good thing against FunPlus. I also think they're being a tad overrated based on recent performance. I highlighted and extensively went into it on Twitter that, while they deserve credit for punishing the mistakes and being where they're supposed to be, that SKT lost that more than Fnatic won it, they could have easily lost to Clutch, and RNG drafted themselves into a loss. I know these things aren't as binary as that but for the sake of brevity let's just say that I think Fnatic sort of got away with murder in week two. Does that mean they don't deserve to be here? Absolutely not. As a matter of fact, I think it's a testament to how good this team can be if they got to quarterfinals at Worlds while performing relatively poorly.
I think the most interesting element of this series is FunPlus' ability to brute force their way out of bad situations versus Fnatic's excellent closing speed and strategic versatility. It's almost like a bull and a matador. Maybe not quite a matador, Fnatic aren't the most tactful at times either but you get the point. The thing is sometimes the bull wins.
When you're handicapping a team like FunPlus you're operating in somewhat existential territory at times. This team, much like Invictus actually, does a lot of things incorrectly but they manage to find a way often through raw talent. I think it's partially just the nature of the LPL's style but I'd compare the LPL and Europe as kindred spirits. I see this series ending up more like a scrappy brawl than a tactical masterpiece. Should Fnatic have the edge strategically? Yes. Are they going to do everything they're supposed to be doing? I'm betting against it. I think Fnatic's biggest weakness as a team is also somewhat of a strength for them and that's that they sometimes lose discipline and get distracted, particularly against good opponents. They're capable of closing as well as anybody, that's one of their strengths but it's often a complete mess until they get to that point. This is where FunPlus thrives. When it's rough and tumble, bar fight League of Legends I want FunPlus in my corner.
I want to like Fnatic but I just don't trust what I've seen from them. It's a bit of a soul read but I know exactly what to expect from FunPlus and I don't know what to expect from Fnatic. I was high enough on FunPlus to put them in my "elite" top three teams tier with SKT and G2 before this tournament knowing full well that they're aren't nearly as fundamentally sound on the map, strategically diverse, or that experienced on this stage. If I had to redo my tier list I'd probably knock them out of that tier and into the next tier with the rest of the top eight or nine BUT they're still there. I just think Fnatic are going to get dragged into a fight that they're capable, but not likely to win. Specifically I'm looking at the mid lane matchup and it's just extremely difficult to get over the potential mismatch there.
This is going to be a long, slugfest of a series. We might break a record for total kills in a best of five. By the end of this match we're going to have two battered and beaten fighters. Blood, sweat, tears, heart, and soul. I'm following my gut a bit more than usual on this one but I want the bigger, badder, combat-hardened guy in these types of battles and to me that's FunPlus.
I'm staying away from the maps total in this but if you are comfortable laying bigger lines I think the OVER 3.5 maps @ -290 is more or less a lock. I won't list it here since I'm not on it but just thought it'd be worth considering for those unopposed to laying that kind of chalk.
Moneyline: FunPlus Phoenix -140 (2 units)
Over/Under: Map 1 Total Kills OVER 28.5 @ -120 (1 unit)
Over/Under: Map 2 Total Kills OVER 28.5 @ -120 (1 unit)
Over/Under: Map 3 Total Kills OVER 28.5 @ -120 (1 unit)
-----------------
Parlays:
A couple light, recreational parlays.
Saturday Parlay (2):
Griffin ML + FunPlus ML @ +190 (0.25 units)
Weekend Exacta Parlay (4):
Griffin ML + FunPlus ML + G2 ML + SKT -2.5 maps @ +617 (0.1 unit)